The Winnin' o' the Green Event #8 - $400,000 Guaranteed Final Table commenced on March 14, 2012, at 6:00 p.m. PDT at Level 32 (Blinds: 60k-120k + 10k ante) with 29:25 left on the clock. Thousands tuned-in to the Bicycle Casino's signature webcast, www.LiveAtTheBike.com, to watch the final nine compete for the first place prize of $92,179, while commentators Jason Harrell, Stacey Lynn Nutini, and Derek Soulakis analyzed the action.
The first two eliminations, Bo Van Tran and Huy Lam, came within the first few minutes of resumption of play. Thereafter, the remaining 6 players took a chipcount and agreed upon a deal, saving 10% and the trophy for the winner.

Play resumed after the deal was made and it looked like chipleader Massoud "Mike" Eskandari had phoned it in after absorbing Abram Assatoury 's stack to his towers of chips; that is, until Paul Sharpe single handedly stacked the short-stacked Tue Phan and deep-stacked Dong Xu in back-to-back hands. Eskandari, himself, was crippled by a misstep into Sharpe, but he managed to make a comeback and after eliminating Douglas Jefferson in 3rd place, the final two agreed to end the match and split the remaining $24,300 in the prize pool.

Paul Sharpe, who had the majority of the chips in play, laid claim to the trophy and the title of champion. Congratulations Mr. Sharpe, job well done!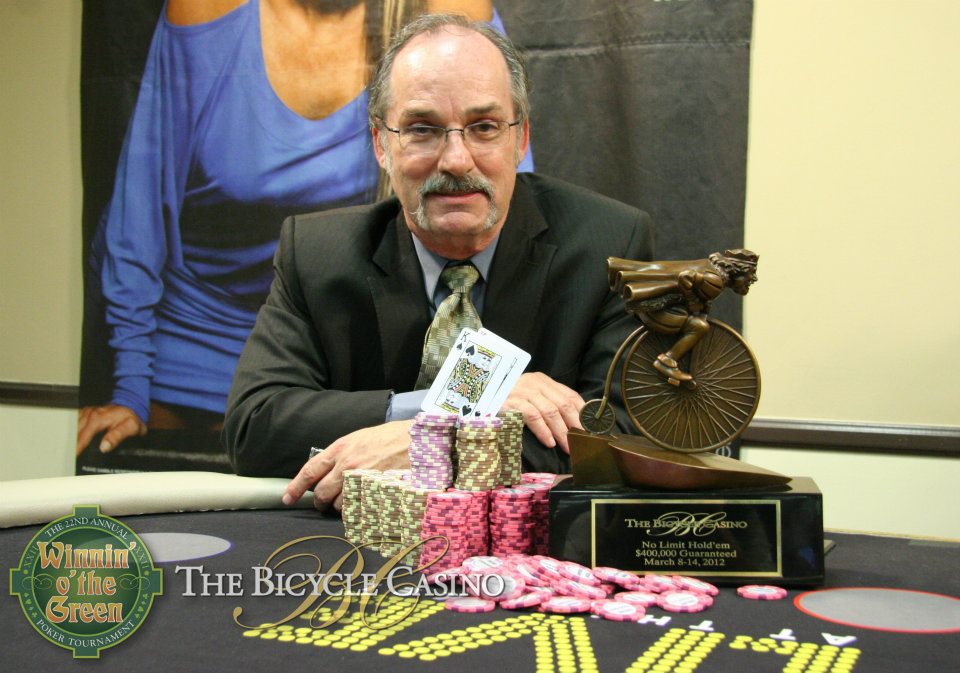 2012 Winnin' o' the Green - Event #8
$400,000 Guaranteed No Limit Hold'em
March 8
th
through March 14
th
Buy In: $125 Entry Fee: $25 Optional Add-on: $100
Entries: 2819 Add-ons: 2028
Prize Pool: $555,979
| | | | | | |
| --- | --- | --- | --- | --- | --- |
| # | Name | Amount | # | Name | Amount |
| 1 | Paul Sharpe | $92,179* | 142 | Victor Shalom | $600 |
| 2 | Massoud Eskandari | $60,000* | 143 | Calvin Ma | $600 |
| 3 | Douglas Jefferson | $40,000* | 144 | Jed Rizk | $600 |
| 4 | Tue Phan | $28,000* | 145 | Patrick Choueiri | $600 |
| 5 | Dong Xu | $23,000* | 146 | Tue Phan | $600 |
| 6 | Abram Assatoury | $18,000* | 147 | Joshua Eisenberg | $600 |
| 7 | Joel Dacara | $13,000 | 148 | Aldon Patatanyan | $600 |
| 8 | Huy Lam | $10,000 | 149 | Ashmad Asad | $600 |
| 9 | Bo Van Tran | $7,000* | 150 | Yevgenity G Niyazov | $600 |
| 10 | Brian Lee | $5,000 | 151 | Guy Vogelbacher | $600 |
| 11 | Ryan Jaconetti | $5,000 | 152 | Rob Furia | $600 |
| 12 | Ryan Teves | $5,000 | 153 | Steven Ford | $600 |
| 13 | Jordan Cristos | $4,000 | 154 | Douglas Hill | $600 |
| 14 | Vadim Baranowsky | $4,000 | 155 | Duey Dong | $600 |
| 15 | Handri Maksudi | $4,000 | 156 | Alex H Limsoco | $600 |
| 16 | Behrooz Shishegar | $3,200 | 157 | Thida R Lin | $600 |
| 17 | Bruce Kramer | $3,200 | 158 | Saritza Stevens | $600 |
| 18 | Florentino O Sandoval | $3,200 | 159 | Stanley Buffett | $600 |
| 19 | Artur Demirchyan | $2,600 | 160 | Behzad Teranie | $600 |
| 20 | Igal Cohen | $2,600 | 161 | Ricardo Contreras | $600 |
| 21 | Sarkis Keshishian | $2,600 | 162 | Igor Zektser | $600 |
| 22 | Ruijian Zhang | $2,600 | 163 | Larry Trammel | $600 |
| 23 | Sean Donohue | $2,600 | 164 | Tony Woods | $600 |
| 24 | Julie Thi | $2,600 | 165 | Kirk Acevedo | $600 |
| 25 | Lynda Tran | $2,600 | 166 | John Hubak | $600 |
| 26 | Shahen Martirosian | $2,600 | 167 | Samer Mogannam | $600 |
| 27 | Allen Le | $2,600 | 168 | Petr Zhmutskiy | $600 |
| 28 | Mona Jones | $2,200 | 169 | Gie Chung | $600 |
| 29 | Eugene Tito | $2,200 | 170 | Andy Chen | $600 |
| 30 | Eduardo Mayor | $2,200 | 171 | Seung Hong | $600 |
| 31 | Ahamd Hooshmand | $2,200 | 172 | Victor Nunez | $600 |
| 32 | Robert Cherfan | $2,200 | 173 | Apolinario Luis | $600 |
| 33 | Jose Saccone | $2,200 | 174 | Stuart Pfeifer | $500 |
| 34 | Arthur Aghadjanians | $2,200 | 175 | Dash D Dudley | $500 |
| 35 | Felix Lapuz | $2,200 | 176 | Chris Van Truong | $500 |
| 36 | Brain Confer | $2,200 | 177 | Irwin Persaud | $500 |
| 37 | Scott Mckernan | $1,900 | 178 | Paul Lui | $500 |
| 38 | Christopher Cook | $1,900 | 179 | Jose Luis DePaz Osca | $500 |
| 39 | Jaime Dalupan | $1,900 | 180 | James Kim | $500 |
| 40 | Eddy Asady | $1,900 | 181 | Thu Nguyen | $500 |
| 41 | Khosrow Kaye | $1,900 | 182 | Garrett Greer | $500 |
| 42 | Steve Crockett | $1,900 | 183 | Guda Azulay | $500 |
| 43 | Lea Kozar | $1,900 | 184 | Antonio Huacuja | $500 |
| 44 | James Robinson | $1,900 | 185 | Igor Zektser | $500 |
| 45 | Ed Hansen | $1,900 | 186 | Shahin Edalatdju | $500 |
| 46 | Antonio J Castaneda | $1,600 | 187 | Prince Cassell | $500 |
| 47 | Timothy Cramer | $1,600 | 188 | John Shinley | $500 |
| 48 | Roberto Polanco | $1,600 | 189 | Ronnie Mcmillin | $500 |
| 49 | Ron Jenkins | $1,600 | 190 | Paul Sharpe | $500 |
| 50 | Renae Garcia | $1,600 | 191 | Makya McBee | $500 |
| 51 | Unknown | $1,600 | 192 | Nancy Yi | $500 |
| 52 | Christopher Donnan | $1,600 | 193 | Edward Milman | $500 |
| 53 | Alfredo Cortinas | $1,600 | 194 | Donald Vogel | $500 |
| 54 | Rashad Bell | $1,600 | 195 | Parviz Sayyad | $500 |
| 55 | John Mgrdichian | $1,300 | 196 | Hynh Rhee | $500 |
| 56 | Michael Zurn | $1,300 | 197 | Ferdinand Peralta | $500 |
| 57 | Keith Prendergast | $1,300 | 198 | Stevie Stevenson | $500 |
| 58 | Jeff Davis | $1,300 | 199 | Jason Olson | $500 |
| 59 | Dave Fernandez | $1,300 | 200 | Ladell Allen | $500 |
| 60 | Benjamin Tennessee | $1,300 | 201 | Eric Allison | $500 |
| 61 | Magic Tran | $1,300 | 202 | Kirk Drickman | $500 |
| 62 | Fong Yang | $1,300 | 203 | H. Duane Weaver | $500 |
| 63 | Khammy Lim | $1,300 | 204 | Luciano Spinali | $500 |
| 64 | Robert Hess | $1,100 | 205 | Duey Dong | $500 |
| 65 | Vincent Cardella | $1,100 | 206 | Lawrence E Brike | $500 |
| 66 | Henry So | $1,100 | 207 | Somgkith Phetnoi | $500 |
| 67 | Dinh Nguyen | $1,100 | 208 | Eric P Dam | $500 |
| 68 | Bruce Lee | $1,100 | 209 | Andy H Phan | $500 |
| 69 | Ryan McCue | $1,100 | 210 | Shlomo Shoshan | $500 |
| 70 | Phong Nguyen | $1,100 | 211 | Michael Fujimoto | $500 |
| 71 | Nika Futterman | $1,100 | 212 | Jed Rizk | $500 |
| 72 | Makya McBee | $1,100 | 213 | Yuri V Shullen | $500 |
| 73 | Igor Yevdayen | $1,100 | 214 | Ba Minh Tran | $500 |
| 74 | Suzy Yashar | $1,100 | 215 | Phillip Sararam | $500 |
| 75 | Hai Diep | $1,100 | 216 | Vanik Azizian | $500 |
| 76 | Satia Wang | $1,100 | 217 | David Kim | $500 |
| 77 | Raymond Tao | $1,100 | 218 | Said Elsanafiri | $500 |
| 78 | Jiwing Lei | $1,100 | 219 | Fred Wolf | $500 |
| 79 | Ragonald Dizon | $1,100 | 220 | Keith Roger | $500 |
| 80 | Unknown | $1,100 | 221 | Jarren Garcia | $500 |
| 81 | Abraham Barbarian | $1,100 | 222 | Nguyen Trung Le | $500 |
| 82 | John Berkson | $900 | 223 | David Campell | $500 |
| 83 | Andrew Matero | $900 | 224 | Anthony Nguyen | $500 |
| 84 | Alexander Ball | $900 | 225 | Jorge Pineda | $500 |
| 85 | Brian Bumpas | $900 | 226 | Anthony Carusi | $400 |
| 86 | John Simonian | $900 | 227 | Carlson Le | $400 |
| 87 | Raymond Kwan | $900 | 228 | Hang N Lam | $400 |
| 88 | Sarah Tolagson | $900 | 229 | Brian Lee Bertram | $400 |
| 89 | Tony Tolentino | $900 | 230 | Jonathan Roseuthal | $400 |
| 90 | Max Davis | $900 | 231 | Max Nguyen | $400 |
| 91 | Yaacov Haviv | $900 | 231 | Emmanuel R Wright | $400 |
| 92 | Berkeley Yuan | $900 | 233 | Larry Trammel | $400 |
| 93 | John Martin | $900 | 234 | Dan Natarelli | $400 |
| 94 | Robert Correll | $900 | 235 | John Stumfall | $400 |
| 95 | Raouf Eshak | $900 | 236 | Niel Ruben | $400 |
| 96 | Chairul Ichsan | $900 | 237 | Nader Modaber | $400 |
| 97 | Christopher Goff | $900 | 238 | John Martin | $400 |
| 98 | Tigran Abgaryan | $900 | 239 | Art Abrantes | $400 |
| 99 | Christopher Clark | $900 | 240 | Larry Trammel | $400 |
| 100 | Duke Nguyen | $900 | 241 | Daniel Bailey | $400 |
| 101 | Monty Willie | $900 | 242 | Roy Tran | $400 |
| 102 | Ramzi Srour | $900 | 243 | Matt Salsberg | $400 |
| 103 | Mark Gilleland | $900 | 244 | Herbert Weissburg | $400 |
| 104 | Dan Frischman | $900 | 245 | Aaron Hill | $400 |
| 105 | Marc J Robinson | $900 | 246 | Mark Tippmann | $400 |
| 106 | Hungsky Pham | $900 | 247 | Robert Dibble | $400 |
| 107 | Raymond Padgett | $900 | 248 | Brent Thompson | $400 |
| 108 | Gebrehiwet Goitom | $900 | 249 | Karl Rittner | $400 |
| 109 | Jacob Flores | $900 | 250 | Alice Talbot | $400 |
| 110 | Abram Assatoury | $3,000 | 251 | Shawn Walker | $400 |
| 111 | Vadim Baranowsky | $3,000 | 252 | Unknown | $400 |
| 112 | Suzy Yashar | $3,000 | 253 | Keith Washington | $400 |
| 113 | Jacob Flores | $3,000 | 254 | Joseph Choueiri | $400 |
| 114 | Gregory R Reynolds | $600 | 255 | Alfons Kela | $400 |
| 115 | Matthew Kursar | $600 | 256 | Karl Rittner | $400 |
| 116 | Hyun Cheon | $600 | 257 | Patrick Gunn | $400 |
| 117 | Debby Vinas | $600 | 258 | Michael Nelson | $400 |
| 118 | John Boogaard | $600 | 259 | Petru Achimas | $400 |
| 119 | Stephen A Chan | $600 | 260 | Adam C Brownstein | $400 |
| 120 | Ben Chung | $600 | 261 | Anas Y Adawi | $400 |
| 121 | Shaun R Hart | $600 | 262 | Wayne T Shinsato | $400 |
| 122 | Julio Gonzalez | $600 | 263 | Kim L Lam | $400 |
| 123 | Jose W Portillo | $600 | 264 | Matt Salsberg | $400 |
| 124 | Artak Babayan | $600 | 265 | Jonathan W Lowe | $400 |
| 125 | Sourin J Kouloumian | $600 | 266 | Jordan Warkol | $400 |
| 126 | Michael Palmer | $600 | 267 | Geraldo Legaspi | $400 |
| 127 | Dane Lomas | $600 | 268 | Le K Banh | $400 |
| 128 | Tim Stearns | $600 | 269 | Steven Goldman | $400 |
| 129 | Wolf Kramer | $600 | 270 | Jorge L Ortuzar | $400 |
| 130 | Petr Zhmutskiy | $600 | 271 | Ramzi Srour | $400 |
| 131 | Erlene Geller | $600 | 272 | Peter Eurton | $400 |
| 132 | Troung Quach | $600 | 273 | Miguel Hernandez | $400 |
| 133 | John Walts | $600 | 274 | Hang Truong | $400 |
| 134 | Manual Quintanar | $600 | 275 | Debby Vinas | $400 |
| 135 | Juan Madero | $600 | 276 | Formerio Sandoval | $400 |
| 136 | Matthew Buchholz | $600 | 277 | Joey Tellez | $400 |
| 137 | Stephen Miczak | $600 | 278 | Brian Willis | $400 |
| 138 | Warren Washington | $600 | 279 | Mu Cho | $400 |
| 139 | Wesley Camero | $600 | 280 | Misak Tonoyan | $400 |
| 140 | Tong Thanh Le | $600 | 281 | Drew Sheffield | $400 |
| 141 | John Martin | $600 | 282 | Mona Jones | $400 |