Special Live at the Bike/Card Player Whale Game Webcast Kicks Off Today at 5:30 PST
PokerNetcast.com is excited to announce a partnership with Card Player, the world's oldest and most well respected poker magazine and online poker guide.
Starting February 27th,
CardPlayer.com will simulcast the Bicycle Casino's signature live cash game web show, Live at the Bike
, (every Thursday and Friday 7:30 pm PST till 10:30 PST) and also partner with Live at the Bike for special programming and promotions.
Today's special broadcast, which begins at 5:30 PST, will feature top players such as "Weeds" Executive Producer and World Poker Tour Season XI Player of the Year contender
Matt Salsberg
, and 2012 Card Player Player of the Year runner up
Dan Smith
. Other top players, celebrities and well known Live at the Bike personalities such as such as Barry "Don't call me Greenstein" Woods, "Corporation" Mike LeBlanc and
Harry Arabian
are locking up seats as well.
With this line up, the action will be fast paced and huge so be sure to tune in.
Live at the Bike is in its seventh season of production at the Bicycle Casino. It is the only poker web stream where any player can put their name on the board and play live to a global audience.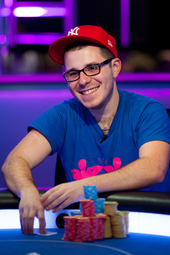 Dan Smith

Courtesy of CardPlayer.com
The show, which details what actually happens at the table level of cash game poker, had developed a loyal following over the years. While tonight's commentary will be provided by Accomplished sports and World Series of Poker commentator
David Tuchman
and Card Player columnist
Bart Hanson
, 2006 World Series Player of the Year
Jeff Madsen
, 2011 World Series of Poker Stud-8/Omaha-8 Champion
Owais Ahmed
, 2009 World Series of Poker Last Woman Standing runner-up
Nichoel Peppe-Jurgens
and 2008 Triple Crown winner
Gavin Griffin
round out the Live at the Bike commentator team. It's like getting a private poker lesson, watching a sitcom, and, through the interactive chat room, hanging out with friends, all rolled-up into one. Watching the show will make you a better player.
During today's special broadcast,
Mo Fathipour
, Tournament Director at the Bicycle Casino, will also stop by to announce details of the
upcoming CardPlayer Tour
stop which will take place at the Bicycle Casino from May 23-June 1st. The main event offers a new type of structure guaranteed to build a huge prize pool so make sure you get in on all of the details.